Fail Friday: Top 10 Kid Fails
Thursday, September 21, 2017 - 23:59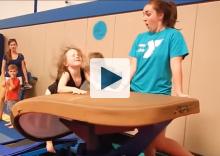 It is #FailFriday and this week I have found a compilation of the Top Ten Best Kids Fails. 
Kids are still learning to navigate the world, so you can almost always count on them to have some pretty awesome fails. 
We were all there at one time in our lives, but it sure is a lot more fun to watch someone else have to go through it. 
Check out the video below and leave me a comment to let me know which clip is your favorite!