Fail Friday: Surfing and Wave Fails
Friday, May 6, 2016 - 02:15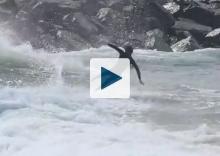 Water is a very powerful force of nature that is not to be trifled with, but that doesn't stop some people. 
This #FailFriday video is a compilation of fails that have occurred while people were taking on the natural phenomenon known as a wave. 
Some on surf boards, some in boats and some on old couches...wait, what? 
Check out this crazy collection of video clips and let us know which is your favorite in the comments!