Fail Friday: Senior Fails
Thursday, October 20, 2016 - 22:52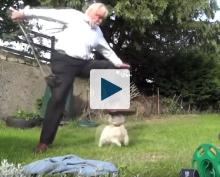 In this edition of #FailFriday we have a compilation of videos that feature older people failing. 
This compilation is not to be confused with our previous #FailFriday post from August which features Angry Old People Fails, although admittedly a couple of the clips are the same. 
This collection of fail videos focuses on older people, mostly in the retirement age, failing in some of the most spectacular and hilarious ways. 
While watching, it is hard not to cringe every time someone hits the ground, because as we get older those falls seem to get harder and harder. 
So, enjoy the video and remember that no matter what age you are, fails can and will happen. 
Don't forget to let us know which clip you think is the best in the comments!