Fail Friday: Huge Compilation Of Fails For September 2016
Friday, September 30, 2016 - 09:31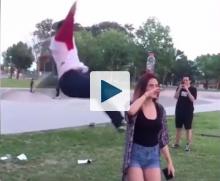 For this #FailFriday we have found this huge compilation of fails that are sure to entertain you. 
You will see people doing stupid stunts, toy plane explosions, beach fails, bike crashes, dance bloopers and lots more. 
I personally think that the worst fail of all is the fact that so many of these videos are filmed with the phone held vertically, rather than horizontally! 
Enjoy the video and don't forget to let us know which clip was your favorite in the comments!