Fail Friday: Home Is Where The Fail Is
Friday, May 11, 2018 - 06:36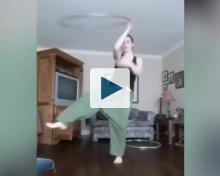 Whenever we are at home we tend to do things that we wouldn't in public because our homes are our safe places. 
This means that most fails probably happen at home, but they are not caught on film as often. 
I know I have failed many times around the house and was glad there was nobody around to see it happen, much less film it! 
The poor people in today's #FailFriday video did not have that luxury and were somehow caught on tape doing things they probably shouldn't have been. 
Check out the video below, don't forget to leave me a comment and have a safe and fail-free weekend!