Fail Friday: That Has To Hurt
Friday, May 18, 2018 - 12:25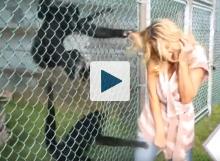 Every Friday we celebrate the foolishness of humans by posting a #FailFriday video loaded with "stupid human tricks" and this Friday is no different. 
This compilation of video clips feature fails that ended in a fair amount of pain for the unlucky recipient. 
You'll see bike fails, ski fails, people trying to use their bodies as weapons and a whole lot more! 
Leave a comment below to let me know which clip was your favorite (the very last one cracked me up!) and try to be safe out there this weekend.