Fail Friday: Funny Water Fails
Friday, August 4, 2017 - 04:22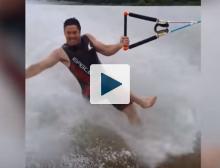 Yet another week is behind us and all we have to show for it is #FailFriday videos. 
Okay, not quite "all we have to show" but they are among the few things that are worth showing. 
This week I found a video that features water fails and they are pretty dang hilarious, if you ask me. 
You will see things like belly flops, boat crashes, swimming dogs and a whole lot more. 
Don't forget to leave a comment below and have an awesome weekend!