Fail Friday: Funny Kid Fails Compilation
Friday, October 20, 2017 - 01:04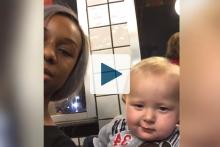 Here we are again, another week is nearly behind us and all we have to show for it are some #FailFriday videos. 
Actually, things are not all that bad, but even if they were these funny kids failing might be enough to make you crack a grin. 
As with any kid fail video you will see plenty of kids falling off of things or just falling over themselves, kids that can't keep their dinner down and kids that can't seem to get dinner in. 
Check out the hilarious video below and leave a comment to tell us your favorite clips!