Fail Friday: Funny Babies Failing To Look Sober
Friday, February 16, 2018 - 03:17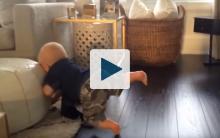 Isn't it funny how little kids can resemble drunk adults, or is that the other way around? 
Either way the resemblance is uncanny and makes the perfect subject matter for today's #FailFriday video. 
Watch as these little kids stumble, fall and drool their way into your heart and tickle your funny bone. 
Leave a message in the comments to let me know which clip is your favorite! 
Have a safe and enjoyable weekend and try to stay out of the fail videos!