Fail Friday: Friday The 13th Fails Of The Week
Friday, July 13, 2018 - 18:26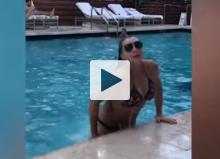 I hope you are enjoying your Friday the 13th so far, however if you are not then this #FailFriday video might help cheer you up! 
While there are no Friday the 13th themed video clips included, there are several fails that may scare you a little bit. 
Things like careless drivers, hover board disasters, exploding cars and more will make you glad you are watching and not participating. 
Leave a comment below to let me know which clip was your favorite and try to have yourself a fun and fail free weekend!