Fail Friday: Farm Animal Fails
Friday, January 27, 2017 - 10:57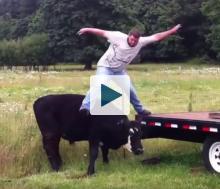 It has been over 9 months since I first started posting #FailFriday videos and it all started with this article about Funny Farm Fails. 
This Friday I have found another compilation of funny farm (not to be confused with "the funny-farm") fail videos, but this time the focus is on the farm animals. 
There are just over six and a half minutes of hilarious video clips featuring your favorite farm animals acting crazy, getting scared, or just acting like the animals that they are. 
Let us know which clips are your favorites in the comments and also let us know what you would like to see next #FailFriday!