Fail Friday: Fails Of The Week
Friday, May 19, 2017 - 04:26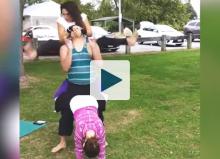 Once again another Friday is here and that means that it is time for another edition of #FailFriday. 
This week I am featuring another "Fails of the week" by FailArmy because it is chock full of great fail clips from around the web. 
As always, FailArmy does not fail to entertain us with some not-so-great moments from the lives of some seriously unlucky people.
So sit back and relax while you prepare for the weekend and watch this video to learn what not to do. 
Leave me a comment below and let me know which clip or clips were your favorite!