Fail Friday: Fails on Two Wheels
Friday, July 1, 2016 - 02:05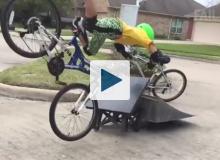 It's Friday and that means we have another #FailFriday video for you. 
This video is a compilation of fails that happen on two-wheeled devices such as bikes, motorcycles, scooters and more. 
Some of these people get what is coming to them and some are just a victim of their own lack of common sense, balance or control. 
Which fail clip is your favorite? Let us know in the comments! 
Remember to stay safe out there!