Fail Friday: Fail Collection You Missed
Friday, December 22, 2017 - 05:00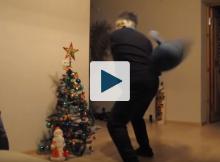 If you missed any fail videos this week, then they are probably included in this huge #FailFriday compilation. 
You'll see lots of Christmas tree fails, crazy Russian drivers and all kinds of paddleboard fails. 
Start your holiday weekend off right and watch the video below. 
Don't forget to leave a comment to let me know which clip was your favorite! 
Happy Holidays and stay safe out there!