Fail Friday: Into The Fail Archive
Friday, August 18, 2017 - 01:06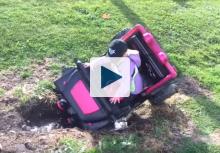 It is #FailFriday and that means its time to watch idiots and unlucky victims have a bad day. 
This compilation of videos contains everything from trampoline fails to motorcycle pileups with a lot of random fails thrown in. 
These fail videos are not new, so you might have seen a few before, but that doesn't mean they aren't worth a second watch! 
Check out the video below and leave me a comment to let me know what you thought. 
Enjoy your weekend and try to make it a fail-less one!