Friday, September 23, 2016 - 04:39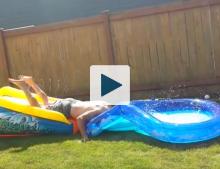 Keeping with the theme of the last couple of #FailFriday posts, this week we bring you this compilation of dads failing. 
Being a dad myself, I know that when kids are involved sometimes you just can't help but fail spectacularly. 
These dads were lucky enough to have someone filming their epic debacles so that it could be shared with everyone. 
After watching these poor dads, make sure you check out these videos of Brothers Failing and Sisters Failing if you haven't already. 
Let us know which clip was your favorite in the comments!