Fail Friday: Close Calls, Near Misses, Etc
Thursday, April 13, 2017 - 22:02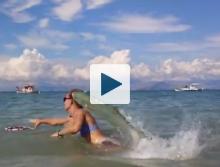 It's Friday, so that means it is time for another edition of #FailFriday! 
However, this week instead of fails I have a video of near fails, or near misses, close calls, near hits or whatever you want to call it. 
Some of these people are lucky to be alive and hopefully they have learned to slow down and pay attention a little better. 
So if you want to see people nearly getting hit by planes, trucks or trains, almost falling from cliffs or a number of other precarious situations, then check out the video below.
Don't forget to leave a comment after you are done watching to tell me which clip was your favorite or to otherwise let me know what you thought! 
Have a safe and fail-free weekend!