Friday, May 26, 2017 - 02:12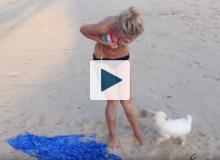 Well here we are again, another beautiful #FailFriday. 
Not only is it Friday, which as we all know is the true start of the weekend, but as I pointed out yesterday it is also springtime! 
That means trips to the beach and local swimming pools are just starting and soon they will be crowded with bored families looking to cool off. 
That also means there will be lots of great opportunities for people to fail, just like the ones captures in todays compilation of video clips. 
Get ready to see some of the crazy things people do when they hit the beach and their brains get a little sunbaked. 
Check out the video below and leave a comment letting me know which clip is your favorite! I think I am going with the Frisbee throwing guys.