Fail Friday: 10 Unhappy Birthday Fails
Friday, July 8, 2016 - 04:56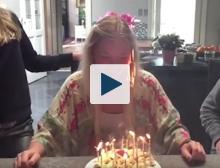 Just in time for another #FailFriday, the JukinVideo YouTube channel has just released this compilation of their picks for the Top 10 Unhappiest Birthdays. 
I think most of us have had the "pleasure" of finding out that things don't always go as planned, and there is no better time for things to go awry than at your birthday party. 
Even though the day seems special to us and we think that things should naturally go our way, the universe usually has other plans. 
Luckily for us, some of these occasions are caught on film and uploaded to the internet for all to witness. 
So sit back and enjoy this Top 10 video of unhappy birthday fails and just be glad it isn't your birthday that is being ruined.