Did Huey, Dewey And Louie Have Parents?
Monday, May 15, 2017 - 04:40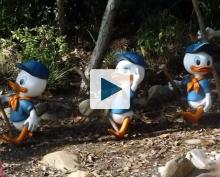 Walt Disney's Donald Duck was introduced to the world in 1934 as Mickey Mouse's ill-tempered friend and he quickly became a huge success. 
It wasn't long before Donald had his own following and started to be featured as the lead character in movies and television. 
Around three years after Donald was introduced, a comic artist at Disney named Al Taliaferro had the idea to create three nephews for Donald named Huey, Dewey and Louie. 
Huey, Dewey and Louie were also a big success and started to have a following of their own. 
So what happened to Huey, Dewey and Louie's parents and why was Uncle Donald Duck the one responsible for them? 
Check out the video below to learn the answer and then leave me a comment to let me know your thoughts!