Check Out This Simple Potato Peeling Trick!
Monday, October 26, 2015 - 23:11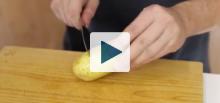 Potatoes are an inexpensive and diverse way to prepare meals, side dishes and snacks. Peeling potatoes, on the other hand, is time consuming, wasteful and not a lot of fun. 
This potato peeling trick is definitely less wasteful and just might save you some time and your nerves. 
What do you think? Do you have a better trick for peeling those spuds? Let us know in the comments!