Check Out The Bandit Edition Trans Am
Monday, March 28, 2016 - 03:19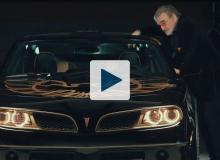 If you have not seen Smokey and the Bandit then you need to stop whatever you are doing and correct that.
In the 1977 movie, the Bandit is played by Burt Reynolds and in the movie he drives a black and gold 1977 Pontiac Firebird Trans Am.
Unfortunately, in 2002 Pontiac discontinued the Firebird line, leaving future generations with few options when it came to owning one...until now!
Trans Am Depot now owns the rights to the Trans Am brand and has been working tirelessly to give the people what they need, more Trans Am's.
They have finally outdone themselves with the introduction of the Bandit Edition Trans Am which uses a new donor Camaro SS with T-tops, a black and gold paint job and too many other details to list.
Burt Reynolds has personally signed every car manufactured, because there are only 77 of them. That's right, limited edition really means limited edition in this case.
Check out the video below of Burt Reynolds introducing the new car and showing off the intricate detail that has been designed into each one.