This Cat Is Not Happy With A Stuffed Tiger
Sunday, December 13, 2015 - 22:17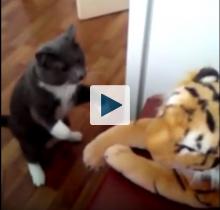 Cats are funny creatures. Sometimes they can be so cool and on top of things and sometimes they are just crazy.
This cat is not happy with the large stuffed tiger that he has found.
Watch as he does a pretty good impression of a heavyweight boxer. Unfortunately for the cat, the tiger can easily take any punishment that the cat hands out!
In the end I think the fight resulted in a draw, but both fighters gave it their best.