Can You Fold Paper More Than Seven Times If You Use A Press?
Thursday, March 17, 2016 - 21:38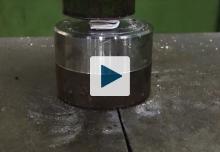 You may have heard the theory that it is difficult, if not impossible, to fold a sheet of paper more than seven times.
With this in mind, the Hydraulic Press Channel on YouTube decided to try and force the paper to fold more than seven times by using their massive hydraulic press.
Do you think they can do it? I must say that I was very surprised at the final results of this experiment and I think you will be too!