Best GoPro Videos Of 2015
Wednesday, December 30, 2015 - 03:02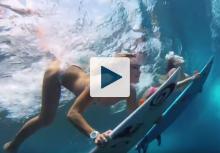 GoPro cameras have changed the way people video their adventures, putting the viewer right in the middle of the action.
GoPro videos can be found on nearly every video streaming website on the web. 
This video is a compilation of the best GoPro videos from 2015.  100% of these videos are filmed with the GoPro Hero4® camera.
This compilation is put together very professionally and has excellent transitions between the clips. 
Which clip is your favorite? Let us know in the comments.