10 Experiments You Can Do With Coca-Cola
Sunday, February 21, 2016 - 21:52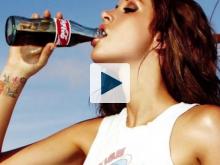 Coca-Cola contains a number of ingredients that may surprise you, but are really not that uncommon in other foods or drinks.
Some of these ingredients make this tasty drink especially good for doing fun, visually pleasing science experiments.
This video shows you ten fun Coke experiments that you can do from home, as long as you keep safety in mind.
Most of these experiments are also going to cause a sticky mess, so you probably want to take them outside, away from other living creatures.
Do you know some other experiments that weren't mentioned? We want to hear about them in the comments!